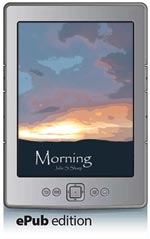 Morning (ePub Edition)
Julie Sharp
eBook in ePub format
ISBN: 978 1 84427 753 7

ADULT READING
Please note: This is an eBook in the ePub format. Please check your e-reader supports this format before purchasing. If you purchase this item, you will be sent an email containing a link and instructions which enable you to download the eBook file from the SU Shop.

We've all heard the Easter story many times and we all think we know it well but Morning, an imaginative retelling of the Easter story, is different. Morning is told from Mary's perspective and it explores emotions and aspects of the story that you've probably not explored before...

Mary sits in the dark of the early morning. She grips a jar of myrrh in her hands, hardly comprehending what has happened. She is waiting. Waiting to go and anoint her dead son. The myrrh shifts in the jar, the smell clouding her thoughts.

It all seemed so clear then, on the day of the angel. She was part of God's plan, going to have God's Son. But now, after the unspeakable events of two days ago, God seems so far away. So silent. Where is his plan now?