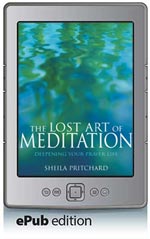 The Lost Art of Meditation - Deepening Your Prayer Life (ePub Edition)
Sheila Pritchard
eBook in ePub format
ISBN 978 1 84427 667 7
Please note: This is an eBook in the ePub format. Please check your e-reader supports this format before purchasing. If you purchase this item, you will be sent an email containing a link and instructions which enable you to download the eBook file from the SU Shop.

A refreshing and inspiring book to help readers deepen their prayer life and, through it, their relationship with God.

This book deals with the objection that meditation is either eastern or new age and therefore dangerous and shows that biblical, Christian meditation can take you closer to God. The eight chapters cover various different approaches to meditative prayer, including creative communication, meditation on the move, and when words won't do.

This is the first in a series of in-depth Closer to God books to complement our Closer to God Bible reading guides.