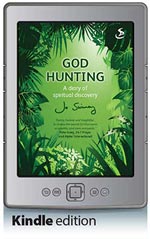 God Hunting - A Diary of Spiritual Discovery (Kindle Edition)
Jo Swinney
eBook in Kindle format, 128 pages
ISBN 978 1 84427 678 3
for LATE TEENS / ADULTS

Please note: This is an eBook in the Kindle format for Amazon Kindles. Please check your e-reader supports this format before purchasing. If you purchase this item, you will be sent an email containing a link and instructions which enable you to download the eBook file from the RFM Shop.

An exploration of six different spiritual practices and how they can be incorporated into a busy and noisy life.

Jo Swinney set herself a challenge: to trial one spiritual discipline per month. This is her diary of discovery. She invites us to join in the hunt for God through prayer, fasting, Bible study, worship, solitude and simplicity and opens the door to new ways of deepening our relationship with God.

• A user-friendly, practical guide to discovering the value of spiritual disciplines
• Introduces new approaches to connecting with God amidst the busyness of life
• Ideal for individual or group use

A note on Kindle e-books purchased from our site
Unfortunately, Kindle eBooks purchased from our website will NOT be automatically delivered to your Kindle as they are when purchasing directly from Amazon. You will need to download the book we send to you via email then transfer it manually to your Kindle device. You can do this in 2 ways:

1. Send an email to your Kindle including the book we sent you as an attachment. You can find your dedicated Kindle delivery email address in the 'Manage my Kindle' section of your Amazon account on the Amazon website. This method adds the book to your Kindle cloud account and it will always be available in your library, even when switching to a different Kindle registered to you or a mobile Kindle app.

2. Plug your Kindle into your computer via the USB cable that came with the device. You can then use your Kindle as an external hard drive. On opening the Kindle drive, you will find a folder containing your books; simply add the book we sent to you to this folder via copy and paste or drag and drop. This method will not add your book to your Kindle cloud account.