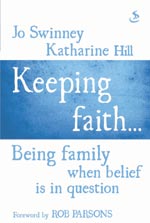 Keeping Faith - Being Family when Belief is in Question (Print Edition)
Jo Swinney & Katherine Hill
130 x 198mm, 160pp
ISBN 978 1 84427 737 7
for PARENTS with ADULT CHILDREN

ON SALE - down from $14.95
What if your children don't choose faith in Christ?
What if they walk away from church?
Jo Swinney and Katharine Hill take a down-to-earth look at these painful questions. Honest and real, Keeping faith…
explores the experiences of Christian parents with adult
children – who have decided, for now, that faith isn't for them. Keeping faith… offers comfort, encouragement and hope for the future.

• Helps Christian families think through the issues when faith is in question.
• Support and encouragement for families in this situation.
• Biblical foundations to help ongoing reflection.