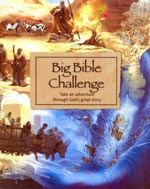 Big Bible Challenge
Scripture Union
190mm x 256mm, 128pp
Spiral Bound
ISBN 978 1 84427 584 7
FOR AGES 7 - 12

Are you ready to take the Big Bible challenge?

Big Bible Challenge presents 100 key Bible stories in an exciting, child-friendly format.

The stories are grouped into 20 Bible challenges, each featuring five Bible stories, one in full and four in summarised form with the opportunity for the reader to find out more. Each challenge helps the child to explore the Bible both visually and through responding to suggested questions and activities.

The book is ideal for using as part of the E100 challenge so that the whole church family can follow the programme together.