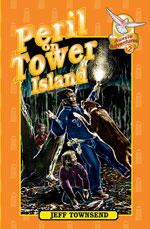 Peril on Tower Island
Jeff Townsend
Readership: Youth 11-14
Aussie Adventures - Book 2
Paperback
ISBN 978 095792 411 6
for AGES 11 plus


In Aussie Adventures book 2 Robert, Tim, Simone, Heather, Ferret, Mandy and BJ head off for a holiday on deserted Tower Island, with Phil the bird catcher, who has now taken a job as Ranger.

They pretty soon discover that the island is not deserted as they were told. A gang of nasty crooks have taken over the old stone gaol and transformed it into a factory for the processing of illegal drugs.

With kidnappings, a daring gaol escape, a stolen radio, a boat engine that wont go, strangers in the dark, and the mysterious ship that comes and goes by the cover of dark, this "holiday" ends up as a week of excitement and grave danger.

In the face of extreme peril, Simone and Robert learn a lot about relationships, and the whole gang learn about God's provision during the tough times in our lives.