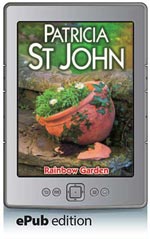 Rainbow Garden (ePub Edition)
Patricia St John
eBook in ePub format
ISBN: 978 1 84427 607 3
for AGES 8 - 11
Please note: This is an eBook in the ePub format. Please check your e-reader supports this format before purchasing. If you purchase this item, you will be sent an email containing a link and instructions which enable you to download the eBook file from the SU Shop.

When her mother leaves her to go on a business trip Elaine is a selfish, spoiled, stuck-up city girl who only gets pleasure in pleasing herself.

For Elaine, packed off to Wales from London, it's only the little garden she finds at the end of the rainbow that makes her stay worthwhile. Will her mother notice the change in her, following her stay with the Owen family in the Welsh countryside?