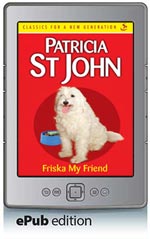 Friska My Friend (ePub Edition)
Patricia St John
eBook in ePub format
ISBN: 978 1 84427 600 4
for AGES 5 - 8
Please note: This is an eBook in the ePub format. Please check your e-reader supports this format before purchasing. If you purchase this item, you will be sent an email containing a link and instructions which enable you to download the eBook file from the SU Shop.

"You're mine and I'm going to call you Friska."

When Friska the dog came to live with Colin and his family, Colin thought that he and Friska would be friends for ever. But, when Friska disappears, Colin begins to find out what 'You are mine' really means, and who is saying those words to him.

The stories of Patricia St John have been entertaining and challenging children and young people for generations. This new edition of Friska My Friend is as fresh as when it was first published in 1985.