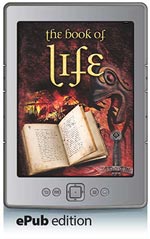 Lost Book Trilogy The Book 3: The Book of Life (ePub Edition)
Kathy Lee
eBook in ePub format
ISBN: 978 1 84427 610 3
for AGES 8 -11
Please note: This is an eBook in the ePub format. Please check your e-reader supports this format before purchasing. If you purchase this item, you will be sent an email containing a link and instructions which enable you to download the eBook file from the RFM Shop.

A blind beggar from the south brings a mysterious message to the King of Lothian. An old friend needs your help… But the message is the start of a dangerous mission, taking Rob and Jamie far from Embra to a land of darkness, slavery and death. Will they ever be able to escape? And can they still trust in God, even when he seems far away?

This is the last in the popular Lost Book Trilogy, a series of Christian futuristic fantasy fiction for children aged 8 to 11. Although a fantastic adventure story in its own right, it will also help children to rely on God in the tough times.