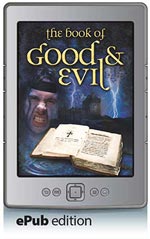 Lost Book Trilogy The Book 2: The Book of Good and Evil (ePub Edition)
Kathy Lee
eBook in ePub format
ISBN 978 1 84427 609 7
for AGES 8 - 11
Please note: This is an eBook in the ePub format. Please check your e-reader supports this format before purchasing. If you purchase this item, you will be sent an email containing a link and instructions which enable you to download the eBook file from the RFM Shop.

Welcome to the magnificent island of city of Embra, full of riches, knowledge and power. But for Jamie, Rob and Ali, the city has very different things in store. War, robbery and treachery follow Jamie wherever he goes, but the book in the seal-skin bag is never far away. Can the words inside save him from certain death?

The Lost Book Trilogy is a futuristic fantasy fiction series for children aged eight to eleven. A fantastic adventure story in its own right, the beginning of the book echoes the story of Josiah finding the book of the Law in 2 Kings 22-23.