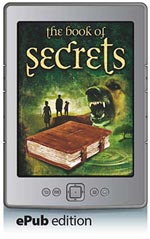 Lost Book Trilogy The Book 1: The Book of Secrets (ePub Edition)
Kathy Lee
eBook in ePub format
ISBN: 978 1 84427 611 0
for AGES 8 - 11
Please note: This is an eBook in the ePub format. Please check your e-reader supports this format before purchasing. If you purchase this item, you will be sent an email containing a link and instructions which enable you to download the eBook file from the RFM Shop.

The first of the trilogy, this is the story of Jamie, who lives in a post-global warming Scotland. Much of what we know now has been lost, but stories of the 'Ancestors' and what they could do are still told. A new king has come to the throne in the island city of Embra and he is searching for books to learn more from them.

The Lost Book Trilogy is a futuristic fantasy fiction series for children aged eight to eleven. A fantastic adventure story in its own right, the beginning of the book echoes the story of Josiah finding the book of the Law in 2 Kings 22-23.