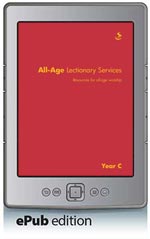 All-Age Lectionary Services -- Year C (ePub Edition)
Various
eBook in ePub Format, 320pp
ISBN 978 1 84427 757 5
Please note: This is an eBook in the ePub format. Please check your e-reader supports this format before purchasing. If you purchase this item, you will be sent an email containing a link and instructions which enable you to download the eBook file from the SU Shop.

This book contains lectionary-based service outlines compatible with 'Common Worship' and "Revised Common Lectionary (Year C)".

In this book the approach and expertise of Scripture Union's curriculum and multi-sensory resources are made available to lectionary-using churches.

Includes service outlines for every Sunday of the year, Bible exploration and Bible story telling ideas, and suggestions for prayers, games, a statement of faith, music, group and family activities–a rich toolbox of resources for anyone leading all-age services.