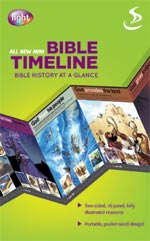 Mini Bible Timeline
Victoria Beech
66 x 105mm, 16 panels
ISBN: 978 1 84427 729 2
Scripture Union's best-selling Bible Timeline has been revised and updated with new text and artwork, and this new Mini Bible Timeline has been produced to compliment its larger counterpart.

The story of the Old Testament appears on one side of this fold-up pocket guide, while the New Testament's story is told on the other. Using engaging artwork and text, this retelling of the big story of the Bible will be useful for leaders in a variety of contexts - Sunday groups, holiday clubs, special events.

It also makes a great gift for children who attend Christian events - be it regular groups, schools ministries or special clubs.