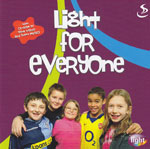 Light for Everyone CD
Various
2 CDs, 17 tracks
ISBN 978 1 84427 080 7

ON SALE - down from $30.95
17 new songs for children aged between 5 - 11, covering a broad range of biblical themes on a double CD.

The first seven songs have been specifically included to be used alongside curriculum material in particular, Splash! for 5-8s and Xstream for 8-11s.

As well as backing tracks for each song, the second CD also contains a Powerpoint presentation of the song lyrics, OHP slides and printable sheet music for each song.