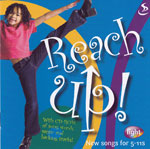 Reach Up CD
Various
2 CDs, 14 tracks
ISBN 978 1 84427 169 2

ON SALE - down from $30.95
An exciting double CD package containing 14 songs for children aged between 5 to 11.

Reach Up! links closely with our Light curriculum material Splash! and Xstream.

Included is an 8 page booklet, backing tracks, sheet music, and words for songsheets/OHP slides. There is a wide range of musical styles and themes, and a wealth of practical resources to help children's leaders and their groups go deeper with God.