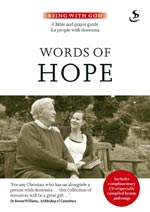 Words of Hope
Edited by Tricia Williams
A5, 48pp PLUS Audio CD
Requires an MP3 file compatible player
ISBN 978 1 84427 5229

Words of Hope is one of 3 Bible and prayer guides in the 'Being with God' series for people with dementia – and the elderly who are struggling with memory loss.

Each title in the series includes:
31 daily devotionals: Bible readings, prayers – clearly and simply set out for ease of use.

'Cues and clues' box with suggestions of picture and object clues to help engagement with the day's theme.

A CD with a hymn or song for every day, specially compiled for these guides by music producer Gordon Lorenz.

A brief 'expert' introduction and 'How to use…' section.

Words of Hope includes the following Bible reading series:

*Jesus – light and life
From Christmas to Easter, well-loved words from the Gospels tell the story of Jesus' life.

*Psalms – words of hope
Familiar words from the book of Psalms bring assurance and hope.