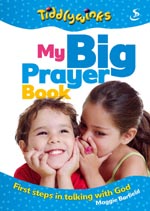 My Big Prayer Book
Maggie Barfield
A5, 80 pp Hardcover
ISBN 978 1 84427 530 4
Under 5's

ON SALE - down from $14.95
My Big Prayer Book contains lots of prayers for parents, grandparents, carers, children's workers and others to say with children under 5.

Introducing prayer into children's lives will help lay the foundations for an effective and real prayer life in years to come. These prayers draw on Scripture Union's experience of work with under–5s and the book has been compiled by an expert in the under–5s field.

Prayers in the book are divided into 6 categories:
*Praising prayers
*Thanksgiving prayers
*Any time prayers
*Sorry prayers
*Please prayers
*Special day prayers
There's also space for the child to write their own prayers.

My Big Prayer Book also has information and advice for parents and carers as they pray with their children.