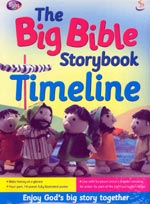 The Big Bible Storybook Timeline
Maggie Barfield
A4,
ISBN 978 1 84427 228 1
The Big Bible Storybook Timeline is here to help you see God's big story in its historical order.

With a combination of colour illustrations, a list of key dates and brief explanatory text, it provides an instant visual aid for everyone who wants to know what happened when, and who came first.

The Big Bible Storybook Timeline can be used in any early years setting: church-based children's groups, carer and toddler groups, nurseries, schools and in your own home.

It is designed to work alongside Bubbles, Scripture Union's curriculum resource for children aged 5 and under, but can also be used on its own.