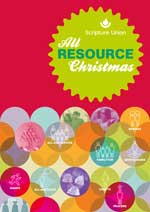 All Resources Christmas
Scripture Union
ISBN 978 1 78506 559 0
A4, 96 Pages

A fresh, new jammed-packed resource full of creative ideas for celebrating Christmas in an all-age context.
BRAND NEW, up-to-date, fresh and exciting ideas from Scripture Union!

Celebrate Christmas in style with crafts, dramas, prayer ideas, family fun day outlines, all-age talks and much, much more. Especially designed to work in any context.

GREAT resources for all-age services, small groups, children's groups, youth groups and even in schools...

The Christmas story is one of the most important parts of the Christian faith, and these resources bring it alive in engaging and inspiring ways....