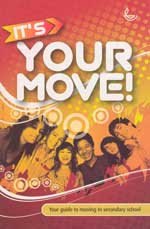 It's Your Move
Scripture Union
131x199mm, 48pp
ISBN: 978 1 87679 465 1

** FOR MORE THAN 9 COPIES - CHOOSE THE MULTIPLE COPY INCON **
Friendships are the most important issue with young people moving to secondary school – leaving friends, making new friends, being left out of friendship groups – they're all major concerns. If ever there was a time when young people need support, it's during this transition.

Recognising that there is a marked lack of published resources to support schools/pupils during this time, It's Your Move! has been specially prepared to meet this need.

Educationally-appropriate and culturally-sensitive, It's Your Move! has been compiled by young people and those who work with them.

A useful, colourful, fun-packed booklet, It's Your Move! contains:

* A-Z survival guide
* Real-life stories from students about to make the move
* Real experiences from students who have made the move
* Wise advice, including the thought that God is with us at all times
* Poems and stories for a good read
* Pages for collecting autographs of friends ... and to make the book personal

Churches, individuals and schools throughout Australia have donated copies for whole classes, and parents and grandparents have enthusiastically welcomed it for children in their own families. It's Your Move! has proved to be an invaluable tool for churches seeking to build bridges with local schools.