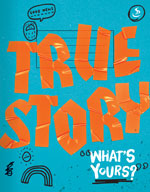 True Story
Pete Brown
Readership:Youth 11-14
Book 180x230mm; 64 pages
ISBN 978 1 78506 519 4
True Story is ideal for any young person between the ages of 11 to 14 seeking answers to life's bigger questions. Its chatty and interactive style is an engaging introduction to what Christians believe about the true meaning of life.

When Warren ended up in the school pond it was hard to argue it had been an accident. But at least we'd cleared up one thing: people don't walk on water.

So... what are you going to do with a man who did? A man who also healed the sick, gave sight to the blind and came back to life after being dead for three days?

Drawing upon funny moments during his own time at school, Pete Brown introduces us to the person who made the biggest impact on his life - not the school bully, but Jesus Christ.

This book explores some of the questions that occurred to Pete during an idle moment in a maths lesson: Is there a God? How can I know Jesus' story is true? And what difference can he make to my life?

Written by youth pastor and evangelist Pete Brown, True Story invites teenagers to reflect upon six key interactions Jesus has with characters from the Gospels.