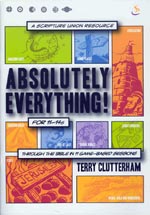 Absolutely Everything!
Terry Clutterham
A4, 80pp
ISBN 978 1 84427 642 4
Lots of youth resources look at Bible topics. So what makes this one different?

Absolutely Everything! gives your 11–14s a foundation for understanding and using the Bible that will set them up for life. By the time you've finished, they will be able to tell the amazing story of God's plan for salvation in the Bible from Genesis to Revelation and see exactly where everything fits.

11 active sessions show the over-arching big picture of God's story and help 11–14s trace the main themes in the Bible. Best of all they'll meet the God who creates, promises, judges, saves and shows who he is, both in his Word and in their own lives!