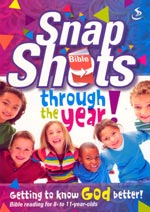 Snapshots Through the Year (Year 1)
Scripture Union
A5, 192pp
ISBN 978 1 84427 573 1

*** TEMPORARILY OUT OF STOCK ***
Backorders Taken - ETA Mid August 2017


Snapshots Through the Year is a replacement for Snapshots dated Bible reading notes for 8 to 11s. Now all the Bible reading material for a whole year is contained within one book. It doesn't matter when the child begins, they can use the tick-box on each page to track where they are up to.

Each day children will discover more about God through a short Bible reading and a variety of other activities such as cracking codes, filling in missing letters, drawing pictures, thinking and praying.

A broad range of Bible passages have been chosen across the Old and New Testaments with extra feature pages on relevant topics such as forgiveness and bullying.