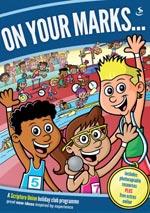 On Your Marks holiday programme
Scripture Union UK
210 x 297mm, 96pp
ISBN 978 1 84427 569 4
Holiday Club resource material for 5 - 11 year old's.

On your marks... get set... go!

Join up with other athletes and take part in the Global Games to discover what it was like for the disciples to follow Jesus and how you can be on his team today.

On Your Marks is suitable for children with little or no experience of Church, as well as those who are already part of a Church community. A flexible programme, it provides everything you need to run a holiday club: craft, games, Bible discovery, small-group discussion, creative prayer and more!