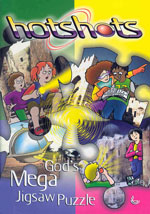 Hotshots 6: God's Mega Jigsaw Puzzle
Jennifer Cavanaugh
A5, 64pp
ISBN 978 0 949720 94 1
Join the Hotshots kids explore Bible events using their timeship. See how the live of Bible characters fit into the Mega Jigsaw Puzzle of what God is doing through history. Work out how your life fits into what God is doing in the world.

The setting for the four books of Series Two (5-8) is a time-machine crew that travels back to Bible times, under the direction of Captain Kate who is a with-it twenty-something aunty character. The five members of the Hotshots Kids Club are nine years old.

There are 60 readings in this book, along with lots of activities to bring the text alive.

This Bible Reading Guide is available for purchase as a single copy for $9.95 plus postage.

Alternatively you may wish to take out a yearly subscription of 4 books per year for $36 including postage within Australia, giving you a 30% saving.

If you would like to take advantage of this subscription offer please call our Toll Free number 1800 808 639 and speak to one of our friendly staff.