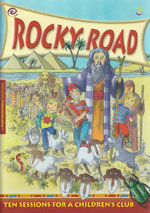 Rocky Road Midweek Club Program
Rosey King
A4, 80pp
ISBN 978 1 84427 183 2

** BACK ORDER ONLY **
Join Moses on the Rocky Road to make the dramatic escape from Egypt and then wander with God's people in the desert. Children will discover how we too can become God's people and how he wants us to live.

The Rocky Road resource book contains ten sessions for a midweek club or special event for children, catering for groups of all sizes, age 5 to 11, with ideas for games, listening to the Bible, prayer, craft, relationship building and fun!

The sessions in this programme are:
*Slaves in Egypt: Exodus 1:6–22;2:23–35
*The birth of Moses: Exodus 2:1–10
*God speaks to Moses: Exodus 3:1–15; 4:1–17,27–31
*Let my people go: Exodus 5–11
*The Passover: Exodus 12:1–42
*Crossing the Red Sea: Exodus 13:17–22; 14:5–31; 15:19–21
*God provides Manna and quail: Exodus 16
*God gives laws to his people: Exodus 19;20:1–17
*The golden calf: Exodus 32
*Spies explore Canaan: Numbers 13;14:1–24, Joshua 1:1–9

Rocky Road can be used as a follow up to the Pyramid Rock holiday club but also works really well on its own.