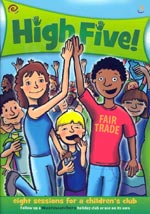 High Five Midweek Club Program
Wendy Stanbury
A4, 80pp
ISBN 978 1 84427 251 8
Discover how Jesus touched the lives of the people around him, healing sick people, telling everyone about God's way and giving up his life to conquer death! Then find out how we can touch the lives of people around the world! High Five! is especially suitable to use with children who are not part of a church community. The High Five! resource book contains eight sessions for a midweek club or special event for children, catering for groups of all sizes, age 5 to 11, with ideas for games, listening to the Bible, prayer, craft, relationship building and fun!

This program has been developed with the Salvation Army, particularly the International Development department, and helps children think about social justice issues.

The sessions in this programme are:
*Reaching hands: Mark 12:40–45
*Caring hands: Mark 7:31–37
*Sharing hands: Mark 8:1–10
*Welcoming hands: Mark 9:33–37
*Giving hands: Mark 10:17–31; 12:41–44
*Loving hands: Mark 10:32–35; 12:28–34
*Hurting hands: Mark 14:43–52; 15:24–28, 33–37
*Strong hands: Mark 16:1–7

For holiday club material that ties in with High Five!, see Wastewatchers.