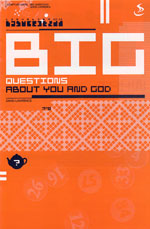 Big Questions
David Lawrence
116 x 180mm, 20pp
ISBN 978 1 84427 117 7
Normal RRP $2.50
The newly redesigned and revised Big Questions is a widely acclaimed, culturally relevant, evangelistic booklet for young people. Underlying all of life's big questions are a set of questions so big that many people never manage to wrap their brains around them at all.

Questions like: Does God exist? If he does, what is he like? And perhaps most critically of all, what does he think about me?

If you have ever wondered where to find answers to life's biggest questions, then this booklet is for you!