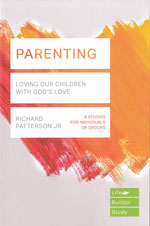 LifeBuilder: Parenting
Loving our children with God's love
ISBN 978 1 78359 700 0
9 studies for individuals or groups by Richard Patterson JR
All-new look, same reliable contents
Parenting is hard work, full of tough choices and new situations. And many voices compete with ours for our children's attention. In a rapidly changing world, how can we parent in a way that will encourage our children to love Christ deeply and live for him?

These studies address nine parenting challenges, pointing us directly to time-tested truth from Scripture that helps us to bring up our children with wisdom and joy.

This title features questions for starting group discussions and for meeting God in personal reflection, as well as a "Now or Later" section in each study.