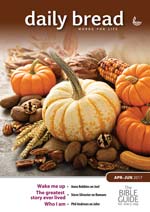 Daily Bread AJ17 Print Edition
APR-JUN 2017
A5, 112pp
ISSN 0963 4797



Daily Bread is the Bible reading guide that aims to help you hear from God as you read the Bible. If you've ever asked the question, 'What possible relevance can this verse have for me today?' or 'What difference does this passage make to my life?' then Daily Bread is for you.

Everyone needs a little help when reading the Bible. Sometimes the poetry and prose, history and revelation, or parables and proverbs need some explanation. Daily Bread provides real inspiration each time you read it. Our writers are from all kinds of backgrounds with all kinds of perspectives. We're sure you'll be challenged, encouraged, surprised and inspired as God uses the notes to speak into your life.

There's three months of dated material that provides real inspiration each time you read it.

* A 'Way in' page introduces the notes and the writer. It sets the scene and tells you what you need to know to get into each series.

* The notes for each day include five key elements: Prepare, Read (the Bible passage for the day), Explore, Respond and Bible in a year. These are intended to provide a helpful way of meeting God in his Word.

Inside this issue of Daily Bread:


Exodus 12-16 - Footsteps to freedom - Catherine Butcher
John 18-21 - That you may believe - David Bracewell
1 Samuel 13-24 - God diagnoses the heart - Ro Willoughby
John 5-8 - Who l am - Phil Andrews
Micah 1-7 - Life through judgement - Ben Green
Romans 6-11 - The greatest story ever lived - Steve Silvester
Joel - Wake me up - Anna Robbins
Acts 17-19 - True grit - Jo Swinney
Exodus 17-24 - The freedom of God's law - Richard Briggs



This Bible Reading Guide is available for purchase as a single copy every quarter for $11.95 plus postage.

For subscription options please call our Toll Free number 1800 808 639 and speak to one of our friendly staff.