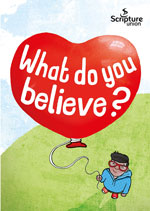 What Do You Believe?
Gemma Willis
Readership; Children 5-8
A6 size, 24 pages each
ISBN 978 1 78506 468 5

What do you believe? is a 20 page missional booklet targeted at children aged 5-8 who attend outreach/mission events.

Developed to support numerous mission events, the narrative of What do you believe? centres around presenting what Christians believe in a series of simple steps.

Illustrated by Lisa Maltby, this booklet has a friendly and colourful design, helping young children to explore the Christian faith, and consider their own response.