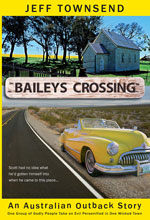 Bailey's Crossing
Jeff Townsend
Hardcover, 352 pages
ISBN 978 1 92116 117 9
for TEENS & ADULTS

When Scott Brooks graduated from Teacher's College he was excited about his new career as a high school teacher. He wanted to make a difference in the students lives. But when the department sent him to a school deep in the heart of the Australian outback, he had no idea what he had gotten himself into!

Bailey's Crossing… A town where racism and hatred is not only tolerated, but bred! A town where graft and corruption are the norm. a town ruled by the iron fist of one wicked man – Bill Harden.

No one crosses Bill. Not if they expect to survive!

Scott had never met a more frightening, menacing, bigoted, racist, greedy or manipulative person, and as the weeks went by, more and more of Bill's evil, wicked skullduggery became apparent.

Follow Scott's story as he stumbles and falls, picks himself up again, finds redemption, meets the woman of his dreams and bands together with a small group of committed Christians who set about the overwhelming task of bringing down the evil, wicked Bill Harden!