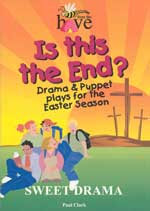 Is This the End: Drama and Puppet plays for the Easter Season
Paul Clark
140x210mm, 40pp
ISBN: 978 0 98038 013 2

**PLEASE NOTE:: There is a 7-10 day wait on this title
Using humour to disarm and emotion to engage, drama is an excellent means to show and tell the good news afresh.

Whether it's a 'heard-it-all-before' or 'don't-have-a-clue" crowd, the skits and puppet plays in this book will allow the greatest story ever told to be heard with new ears. How would Shrek's donkey speak of Palm Sunday? Was Jesus' body stolen? What would bumbling Inspector Clueless make of the evidence? Is the cross the end? Just some of the questions we consider in this thought provoking collection.

Great for worship, kids groups, schools and community events.