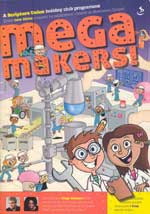 Mega Makers! Holiday Club Program
Ro Willoughby
A4, 96 pages
ISBN: 978 1 84427 786 5

** CURRENTLY OUT OF STOCK ** Pls phone 1800 808 639 to check on future availablility
Enter the inventor's workshop and make some mega discoveries about God. Hear about how God's love is far wider and longer and higher and deeper than we can ever imagine. Find out what it means to be a follower of Jesus.

Mega Makers! is suitable for children with little or no experience of church, as well as those who are already part of a church community.

A flexible programme, it provides everything you need to run a holiday club: craft, games, Bible discovery, small-group discussion, creative prayer and more! This resource book includes materials for a five-day Holiday Club PLUS plans for an opening and closing Sunday service.