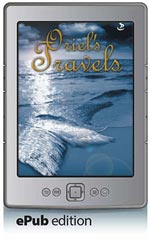 Oriel's Travels - An Archangel's Account of the Life of Paul (ePub Edition)
Robert Harrison
eBook in ePub format
ISBN: 978 1 84427 593 9
Please note: This is an eBook in the ePub format. Please check your e-reader supports this format before purchasing. If you purchase this item, you will be sent an email containing a link and instructions which enable you to download the eBook file from the SU Shop.

In this fantastic sequel to the brilliant Oriel's Diary the archangel Oriel's mission seems simple: to make sure Paul gets to Rome with the Good News of the resurrected Christ. But Oriel didn't bargain for forced flights, hair-raising escapes, a shipwreck and imprisonment ... not to mention his own fears of the sea and Paul's distrust of horses and women!

From fanatical destroyer of the followers of Jesus to fearless gospel pioneer - Oriel's Travels tells the incredible story of the man central to the formation of the church!

Oriel's Travels is humorous, entertaining and thought-provoking.