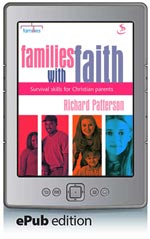 Families with Faith - Survival Skills for Christian Parents (ePub Edition)
Richard Patterson
eBook in ePub format, 208 pages
ISBN: 978 1 84427 693 6
Please note: This is an eBook in the ePub format. Please check your e-reader supports this format before purchasing. If you purchase this item, you will be sent an email containing a link and instructions which enable you to download the eBook file from the SU Shop.

The daily pressure of tiny tots throwing tantrums ... teacher resignations escalating because of classroom disruption and exclusions ... police and courtroom time overwhelmed by juvenile crime ... depressing divorce statistics. Newspaper headlines confirm that family life is under threat as never before.

What can Christian parents do to survive the pressures? More than that, how can they create the kind of strong, loving, faith-nurturing family experiences that give their kids a real introduction to Jesus?

This book is unique in combining parenting wisdom with an emphasis on passing on the Christian faith to the next generation. It is a must-read for all Christian parents.