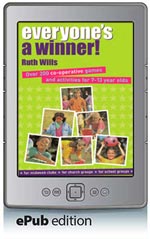 Everyone's a Winner - Over 200 co-operative games for 7-13 year olds (ePub Edition)
Ruth Wills
eBook in ePub format, 96 pages
ISBN: 9781844276608
Please note: This is an eBook in the ePub format. Please check your e-reader supports this format before purchasing. If you purchase this item, you will be sent an email containing a link and instructions which enable you to download the eBook file from the SU Shop.

A "must have" for anyone working with the 7-11s age group.

This illustrated book is a radically different approach to games for young people that are mainly collaborative, enormous fun and designed to build up participants rather than put them down. Games and activities like these work alongside sharing a gospel of love and acceptance.

With chapters on ice-breakers, ball games, messy games, music, drama and theme games to name but a few, there is plenty to choose from.